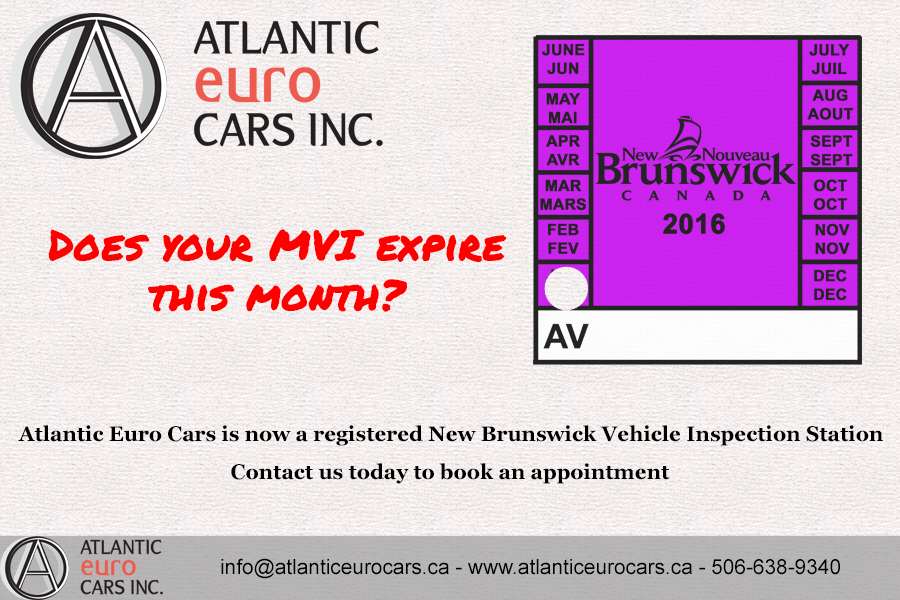 Don't forget to check the expiry on your New Brunswick Motor Vehicle Inspection. Especially if you still have a Yellow (2015) one! No one wants a fine, or being told to leave their car where it is due to an expired inspection.
Want to know what is involved in getting an MVI?
From The Government of New Brunswick
Motor Vehicle Inspections are required to ensure that all motor vehicles meet required safety standards. All passenger cars and trucks require an annual inspection. Taxis and buses are inspected twice a year. Regular inspections encourage vehicle safety by checking key equipment such as brakes and steering, so that critical maintenance issues may be addressed.

Listed below are the parts of a vehicle that should be inspected by the mechanic during an inspection on a passenger vehicle:

The body, and seat belt assemblies
The windshield and windows
The horn
The windshield wipers
The rear-view mirror
The lighting systems
The exhaust system
The brake system
The steering system
The suspension system
The wheels and tires
The coupling system
Stay out of trouble and book your NB Motor Vehicle Inspection with us today!
http://atlanticeurocars.ca/service/ – info@atlanticeurocars.ca – 506-638-9340