How the Internet has changed how we buy cars.
The good, the bad, & the ugly
It's no secret that you can buy pretty much everything online these days. Although the physical car purchase doesn't happen quite as often as phone cases, it's crystal clear that the internet has affected the industry.
The Good: Access to Information
We're now a simple Google search away from a wealth of information the moment we decide – "Hey, it's time to look for a new or used car." And that's exactly what we're doing. According to a 2016 survey by Cox Automotive, 88% of car buyers surveyed were using the internet during the purchase process, with the average car buyer spending 59% of their time researching and shopping around online. Why wouldn't we arm ourselves with all this information? But, how do we use it effectively?
For our used car buyers, we do recommend some initial research to decide on a few makes and models or a general idea of what works for you and your life. It gives us a place to start looking for the perfect fit for you. What's the average price range? What are the common issues with the cars you're interested in? One tip though: take online reviews with a grain of salt, you'll hear more from dissatisfied car owners than satisfied ones!
The Bad: Too Much Information?
That one little Google search we mentioned: Data overload, right? How do you make sense of it all? What's true? What's not? What's important? What's not?

First of all, decide what's important to YOU. Leg room? Gas mileage? Four-wheel drive? Resale value? The biggest advice we can give you here is to look past all the pretty photos and find good, reliable vehicles that interest you. Also keep in mind that every new car is the same off the assembly line. Used cars are different – you really need to look for quality first.
Yes, we did say that you can buy a pre-owned car without actually sitting in it, but car-buying is still serious business and a significant purchase decision. A (reputable) dealer can be a great asset to you during this process! Also, all this online car research consumers have been up to has affected dealerships too. The industry is becoming more and more transparent, and customers come in more knowledgeable and educated in what they are looking for. That's what we like to see!
The Ugly: Don't Get Duped!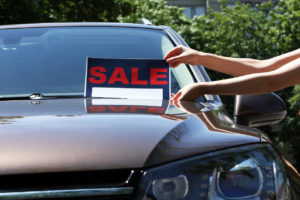 Yes, you've done your homework. But sometimes it can be easy to be swayed by those pretty pictures and that well-written Kijiji ad about a "great deal." If you do go this route, always have a reputable mechanic look at the vehicle before you make the purchase. Think of it like having a home inspection before buying a house – you need to know what you're getting from an expert who is working on YOUR behalf and on your dime. If a seller doesn't want you to do that: red flag.
Another red flag to watch out for are Curbsiders. Curbsider: A person who poses a dealer. They may have more than one car for sale on a sales lot, but really are private sellers. A Curbsider, much like a private seller, doesn't necessarily have your best interest at heart – even though they may sound very knowledgeable and forthcoming. Keep in mind that all licensed car dealers in New Brunswick must post a bond with the New Brunswick Motor Vehicle Department and abide by the rules set out in the NB Consumer Protection Act. Ask to see their license, it's not a secret document!
A few easy takeaways from our conversation today…
Use the internet to your advantage by educating yourself.
Avoid information overload. Ask an expert for help!
Buyer beware: not everyone on the internet is your friend.
Ask the right questions, get the answers before you commit
Questions? Get in touch before you start your car-buying journey!
[mautic type="form" id="6″]