Why Use a Professional Auto Broker?
Vehicles are large financial investments.  Transactions today typically exceed $30,000, and can be $200,000 or more.  If you had a $30,000 income tax problem, would you attempt to handle it without the help of a certified accountant?  If you had a $30,000 legal question, would you deal with it without the help of an attorney? Considering the small upside cost and the large downside risk, it could be risky to pursue a deal without the professional assistance of a qualified Auto Broker.
Still not convinced of the value of an Auto Broker?   Here are eleven more reasons to use one.
When Buying a Vehicle
Professional Auto Brokers have resources that are unavailable to most auto buyers.  Quick access to sophisticated and reliable multiple listing services save time in narrowing the field of vehicles that meet a buyer's requirements.  A broker's participation in professional automotive associations also provides confidential connections which enable them to find vehicles that are not yet on the market or are not being actively marketed by their owners.
The Result: You, the buyer, have a qualified list of vehicles to choose from, and more time to look them over.
Auto Brokers can assist in the selection process by helping the buyer clearly define vehicle requirements and by providing information to evaluate them.  It can be crucial to have that more objective point of view.
The Result: You have a better understanding of what you want, what you need, and a list of pros and cons to help with that final decision.
Auto Brokers can help in pricing and negotiation.  There are a myriad of factors; price, financing, terms, date of possession, and often the inclusion or exclusion of repairs or additional equipment. There is give and take in every step and it is wise to have an objective, experienced broker to help sort it all out. Brokers also prepare all the appropriate documentation to comply with government, insurance company and manufacturer regulations.
The Result: A smooth closing and delivery.
Auto Brokers provide information on many vehicle services; such as mechanical repair, body shops, vehicle maintenance, and inspection facilities.
The Result: Affordable, quality services from qualified businesses that respect their clients.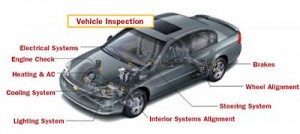 Auto Brokers advise the buyer throughout the evaluation process.  They recommend the extent of the inspection before making a commitment to buy, and helping to identify the best individuals to conduct the inspection; two key functions of a knowledgeable and experienced broker.
The Result: A defined inspection strategy and a thorough report to ensure that the buyer gets what he paid for.
The Auto Broker provides worry free due diligence, and makes sure that the title to the vehicle is clear.  Title can be mired in a confusing status of past owners or rights of access.  If the auto is being imported from another country, as well as ensuring a clear title, he will handle border clearances and all import documentation, and arrange transportation and insurance.
The Result: A smooth transaction, peace of mind, and delivery in Canada without problems or damage.
When Selling Your Vehicle
Auto Brokers will promote and advertise your vehicle to get maximum exposure to all qualified buyers.  Through their network of dealers, pre-owned car specialists, vehicle auctions and personal contacts, your Auto Broker has the tools to maximize exposure to your auto.
The Result: Qualified buyers looking at your vehicle.
During the selling process, your Auto Broker can give you up-to-date information on what is happening in the marketplace with respect to price, financing, terms, and condition of similar vehicles.  Often, your Auto Broker can recommend repairs or cosmetic work that will significantly enhance the salability of your vehicle.  These are key factors in getting your vehicle sold at the best price, quickly, and with minimum hassle.
The Result: Quality offers at the highest possible valuation.
Your Auto Broker will know when, where and how to advertise your auto to the public.  Responses to advertising are prescreened so that only qualified prospects see your vehicle.  Your Auto Broker accompanies prospects throughout the sales process, you can be free of concern about the security of your property.
The Result: More free time and confidence for the seller.
Your Auto Broker can help you objectively evaluate every buyer's proposal without compromising your marketing position.  This initial proposition is only the beginning of a process of appraisals, inspections and financing.  Your Auto Broker can help you avoid pitfalls, and write a legally binding, win-win agreement.
The Result: A smooth transaction.
Your Auto Broker can help close the sale of your vehicle.  Between the initial sales agreement and settlement questions may arise.  For example, unexpected repairs may be  required to obtain financing, or a cloud in the title may be discovered.  The required paperwork alone can be overwhelming for many sellers.  Your Auto Broker is the best person to objectively help you resolve these issues and move the transaction to completion.
The Result: Less stress, more satisfaction for the seller.