A Day At The Collector Car Auction In Fort Lauderdale
On March 22 I attended the Auctions of America Collector Car Auction in Fort Lauderdale. This was my first chance to go to a collector car auction and I was not disappointed. Having been in the automobile industry for over 30 years, and being a car nut I have watched the Barrett Jackson auctions for years on television. The Fort Lauderdale auction certainly was not as large but I found it every bit as interesting.
On entering I was first amazed at finding a collection of over 500 cars to be auctioned off over a 3-day period. It was a bit overwhelming initially, where do you start to look. I chose to focus on the cars that I personally have been interested in. An amazing 1985 Shelby Cobra replica in bright red along the back wall first caught my eye. As I made my way to the car I passed a number of late 50's Chevy impala convertibles. These cars were generally driver's cars, not strict collectibles. As I continued to wander the rows it was really interesting to see the vehicles that various owners had lovingly cared for over the years. I really admired as the owners did more than just display they, they had actually been driven and enjoyed.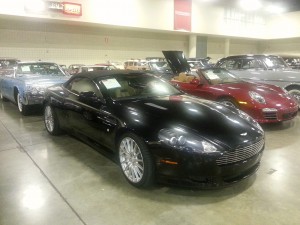 Next, my eye caught an Aston Martin DB9 cabriolet in black. Although I have been selling luxury and exotic cars for years I had never sold one of these. This car was a 2007 in showroom condition with less than 25,000 miles. A luxury car dealer owned it in southern Florida who was going to run it and see if he could get the price he wanted. Behind it was an early Ferrari.
Ferrari was well represented with 87 3.2 Mondial Cabriolet selling for a paltry $22,000, a 1979 308GTS crossing the block at $30,000 models and a 1989 Testarossa pulling $51,700.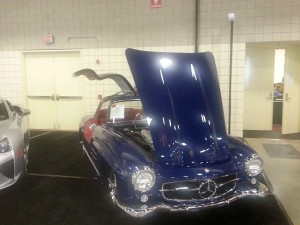 Being a former Mercedes-Benz Dealer I was particularly interested in the number of older MB's that were available. A silver with red leather 1960 190SL was in particularly good condition. I followed it across the auction block as it brought $155,100. There was a 1955 Gullwing in the special car section that was restored to a 7 or 8 out of 10 condition. It had been painted in a medium blue and had some things that I noticed seems to detract from its condition. Some one has spent quite a bit of time applying chrome to items on the car that were never chromed in the original and as such would detract from the price. The Gullwing's have been  selling in excess of $2 Million at some auctions in the past. Today this car would sell for $880,000.
The other MB that I saw that caught my attention was a 1969 280SE 3.5. These cars were the flagship car of their time. The Silver with black cabriolet was in pristine condition. The only items I noticed on this car were that the wood at the bottom of the windshield did not match the rest of the interior wood perfectly. The restorer must have opted to buy the replacement wood from an aftermarket source not MB Parts. It was a close match but you could tell that it was not right.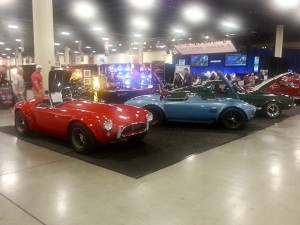 Going back to the days of my youth my favorite car was the Shelby Cobra 427. There was an original red 1963 that sold for $533,500. There were a number of replica kit car versions of this car that were available and I watch one of these replicas's crossed the Block at $29,000. Nowhere near what the originals sell for.
Overall my first experience at these auctions was a fun one. I quickly learned that you need to be a student of these auctions if you want to purchase anything. I think the auctioneers work on the premise that they get people excited and when they are bidding they are bidding more often than not with their hearts not their heads. People seemed to be paying a premium for some not so perfect cars. Certainly the auction was totally different than the regular wholesale car auctions I attend regularly. I was not enjoying the same comfort level that I have when I am looking at our regular auctions buying cars for my clients.